Evaburn

Evaburn are:
Tim Crahart – Lead and Backing Vocals and Lead Guitar
Hannah Jones – Lead and Backing Vocals and Rhythm Guitar
Colin Howells – Backing Vocals and Bass
Harvey Philpott – Drums

Evaburn is a contemporary worship band with a sound that echoes the music of the generation. Their sound is punchy and up-tempo with sing-a-long choruses that insist you join in. Their music can widely be categorised as rock and has been influenced by bands like the Foo Fighters and Greenday as well as Christian acts like Delirious and Tim Hughes.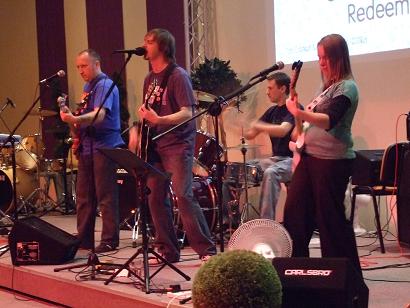 The band formed in October 2006 with the desire to worship God but with no real idea of what the band was going to sound like. Initially the group set about practising worship standards by people like Matt Redman and Tim Hughes but as soon as the original songs started flowing it became apparent that this wasn't going to be a 'covers' band. Charged by God to bring something new, Evaburn has never looked back and they continue to write catchy, honest and relevant songs that revel in God's love and grace.
Check the Myspace page at www.myspace.com/evaburning
Upcoming events
Youth Gig – The Merlin, Drove Road, Swindon – 19th October 2008
Agape event – The Manor, Thistle Way, Ty Sign, Risca – 24th October 2008
Leading Worship – Cifty of Refuge, Graig Community Hall, Bassaleg – 16th November 2008
 
Gig history
Debut Gig – Channel View Community Hall, Risca – 28th Feb 2007
Grapevine Youth Event – St Francis Church, Bridgewater – 21st March 2007
Celebration – The Bridge, Pontyclun – 27th March 2007
Gig night – The Bridge, Pontyclun – 30th March 2007
Evaburn Event for Stop the Traffik – Abundant Life Centre, Newport – 15th June 2007
Gig night – The Bridge, Ponyclun – 13th July 2007
Bethel Explosion/The Lab event – Pen & Wig, Newport – 29th July 2007
Evaburn Event for Soul Survivor – Abundant Life Centre, Newport – 3rd Aug 2007
Green Park Festival, Waunfawr Park, Crosskeys – 4th Aug 2007
H2H Youth Event – Orchard Street Community Centre, Brynmawr – 31st August 2007
Youth Club – Bethesda Baptist Church, Rogerstone – 21st September 2007
Islwyn Acoustic Guitar Club – Risca Rugby Club – 5th October 2007
Hallelujah Party – St Julians Baptist Church – 31st October 2007
Teen Challenge Christmas Party – Abundant Life Centre – 18th December 2007
Youth Club – Moriah Baptist Church, Risca – 25th January 2008
Evaburn lead worship at Agape – Channel View Community Centre – 3rd February 2008
Youth event – Hebron Hall, Dina Powys – 8th February 2008
Haiti Hospital Appeal fundraiser – Newport Christian Fellowship, Newport – 25th April 2008
Evaburn Lead Worship – St Julians Baptist Church, Newport – 27th April 2008
Greenpark Festival – Waunfawr Park, Crosskeys – 11th May 2008
Hope 08 – Abundant Life Centre, Newport – 18th July 2008
Project 418 – The Manor, Thistle Way, Ty Sign, Risca – 19th July 2008
Teen Challenge Fund Raiser – Llanwern Village – 16th August 2008
Birthday Party – Ferns Club, Lliswerry, Newport – 13th September 2008
Leading Worship – The Highway Church, The Kings Hotel, Newport – 14th September 2008
Leading Worship (Acoustic) – The Highway Church, The Kings Hotel, Newport – 21st September 2008
Shade Fundraiser – The Manor, Thistle Way, Ty Sign, Risca – 26th September 2008
Leading Worship – The Highway Church, The Kings Hotel, Newport – 27th September 2008
Example Lyrics
Your love for me it knows no end
A love that suffers for a friend
A love that gives itself to die
A love to cross the great divide
Now I've found everlasting love
Waiting here all the time
Now I've found everlasting arms
Waiting here open wide
Your love for me it knows no bounds
A love that always can be found
A love so high a love so wide
A love to cross the great divide
Greater love has no one
Than to die for a friend
Greater love You've shown to me
To me