Skate 418
SKATE 418 is something Agape Community Church was involved in and this has now ended( Sept 2013)
Skate 418 is a group for Skaters.
The group meets every Sunday afternoon between 1.30pm and 2.30pm at the Ty-Sign Skate Park and/or the TLC shop.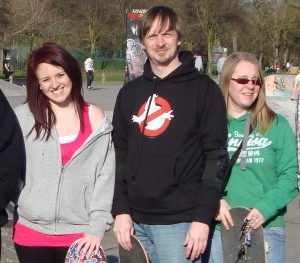 The group leaders are Leanne, Tim & Hannah.  All three leaders are learning to skate – so you can always come along and have a laugh!!
In the group we;
Watch Skater dvds
Visit other Skate Parks
Have discussions
Listen to music
Play on the Wii
We have already had one trip to St Georges Park in Bristol and hope to visit more skate parks soon.
We're also open to any other ideas, 'cos this is your club – so come along, join in and have some fun.