A very wise person once told me to 'start from the very beginning, it's a very good place to start!'
Ok, it was Maria in the sound of music, and she wasn't really telling me, but seven strangely attentive and responsive children, but we can pretend!
Yesterday we held the first youth group of the year, and I think it was enjoyed by all. We started at the very beginning of time, and managed to fit seven days in to one hour session. We talked about creation, and they created the world. I thought you might like to see what we made… here it is…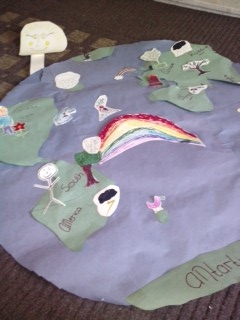 If you are in year 6/7/8 please come along to the TLC on a Thursday evening at 6 til 7. It would be great to see you there.
Also, if you are free on a Thursday between 5.45 and 7.15 and would like to help out please let me know!
Bec.